We have four Feast of Tabernacle locations across Canada. The map below gives an approximate location of each site. Click on the site name at left or click on the dots on the map to show the site description.
Victoria, British Columbia
Victoria, British Columbia
Victoria is a family Feast site set among many wonders of God's creation. This year's venue is located in the iconic Victoria Inner Harbour. Located amongst many downtown and coastal attractions, Harbour Towers Hotel and Suites is within two blocks of the B.C. Parliament Buildings and Victoria Clipper Ferry terminal. Feast activities include special pricing for the catered family dinner and dance, the catered seniors luncheon, and a whale and nature watching cruise.
For those capable of moderate walking, no vehicle is needed to enjoy many nearby attractions. Stroll from the hotel to the Royal B.C. Museum, Empress Hotel, Maritime Museum, Bug Zoo, Miniature World and Fisherman's Wharf. Step onto a whale-watching boat, or walk through the manicured gardens of Beacon Hill Park onto ocean beaches with expansive views and walking trails.
Other local attractions that will require transport include Butchart Gardens, Victoria Butterfly Gardens, Craigdarroch Castle, Hatley Castle, Fisgard Lighthouse, golf courses, various parks and scenic drives. Additional area information can be found at www.hellobc.com/victoria.aspx.
Location of Services: Lodging and Feast services are at Harbour Towers Hotel and Suites located at 345 Quebec St. in Victoria.
First Service: 10:30 a.m., Thursday, Oct. 5. Daily services begin at 10:30 a.m.
Note: Victoria is a restricted site. The meeting room can only accommodate 300 people, and consequently festival registration is restricted to 300. All interested in attending the Victoria site need to register online at www.ucg.org/members/feast and obtain approval before prepaying for travel.
For this venue to be affordable to the Church we need to utilize 50 or so Harbour Suites hotel rooms and have good participation at the catered seniors luncheon and family dinner and dance, all being offered at special rates.
All lodging prices below are in Canadian dollars (CAD), plus 15 percent taxes. Check the reservation cancellation policy when making your reservation directly with the hotel. Discount hotel garage parking is $5 for daytime, or $8 for day and night.
We look forward to having you and your family with us at the Feast in Victoria, B.C. this year.
-John Elliott
Festival Coordinator
E-mail: victoriafeast@ucg.ca
Cochrane, Alberta
This year the Feast in Alberta will be located in the heart of Alberta cattle country and the Cowboy Trail in Cochrane. Cochrane is nestled between Calgary and Banff and is a recreation playground for families, adventure enthusiasts and those seeking rest and relaxation in a beautiful natural setting. If you wish to experience the Rocky Mountains and the town of Banff, it is only a one-hour drive to Banff, making it an easy afternoon trip after services.
Cochrane has something for everyone, from quad rentals, to hiking through original ranch country, to spending the day enjoying quaint shops, boutiques, dining establishments and the most famous ice cream in Alberta. You can also spend the afternoon visiting the galleries, enjoying the talents of a number of recognized artisans, musicians and writers that call Cochrane home.
Cochrane combines a proud western heritage with spectacular vistas of the rolling foothills and majestic Rocky Mountains, with all the modern conveniences required for a great Feast.
For Feastgoers who wish to spend time in the city of Calgary, it is only a 20-minute drive from the Feast site.
Calgary sights to see include the famous Calgary Zoo, Heritage Park with its historic buildings and car museum, the world class Glenbow Museum, the Telus Science Center and of course the shopping. Calaway Park will be open Oct. 8-9 for those that need the adrenaline rush.
Location of Services: The Cochrane Ranchehouse at 101 Ranche House Road. We will be using the "Hall of Vision" room (http://cochraneranchehouse.ca/).
First Service: 7:30 p.m., Wednesday, Oct. 4. The following day's service will be at 1 p.m.
For more information on the Cochrane area, things to do, see, and where to eat please refer to www.cochrane-tourism.ca/.
If you have any questions please e-mail me at larry_delong@ucg.ca.
Larry deLong
Midland, Ontario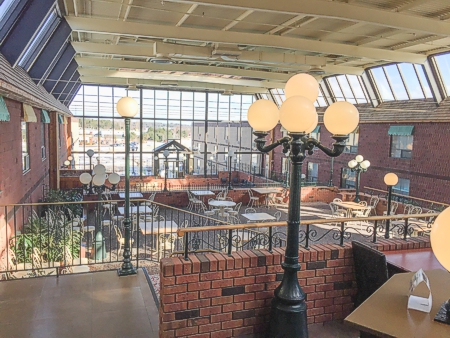 Tara Crompton
We are pleased to announce that the Feast of Tabernacles 2017 will again be held in Midland, Ontario, Canada.
Last year we held "in-house" activities that were a huge success and will be repeated once more.
Midland is located on beautiful Southern Georgian Bay, only 90 minutes from Toronto and 30 minutes from Barrie.
The area has a natural blend of scenic landscapes, wildlife diversity and a picturesque harbor with waterfront trails and parkland. The spectacular fall colors should be at their best during the Feast. You can also visit several historic attractions that reflect the region's rich cultures.
There is an array of shopping in the historic downtown, or a short drive to Barrie. For food lovers, there are local culinary delights and a variety of restaurants throughout the area; for those who would prefer to stay in, dining will be available at the onsite Library restaurant and will also offer in-room service.
One of the main reasons for returning to Midland is the warm and friendly welcome that we received over the last number of years. The Quality Inn is the premier full-service hotel in the Southern Georgian Bay area. It has an excellent remodeled ballroom with seating capacity for 500 people.
Accommodations include standard rooms as well as suites that come complete with a small refrigerator and a coffee maker. All rooms include free high-speed Internet.
Room rates start at $79 for the standard room up to $99 for a fireplace jacuzzi suite. Your room rate includes a hot breakfast at the onsite Atrium Café. The Atrium also provides a wonderful setting for interaction and relaxation as you connect with other spiritual members of the family.
Other amenities at the Quality Inn include a heated indoor swimming pool, hot tub and sauna for total relaxation.
For those who need alternative housing, there are also cottages and bed-and-breakfasts in the area. Festival activities once more center on the family, beginning with a meet-and-greet night, seniors brunch, Bible studies, family day, games night, variety night and much more.
For those who have not yet experienced the quaint little town of Midland we hope this will be the year you do; for those who have attended in the past, we invite you to try it again for the first time.
For further information on the area, please go to www.southerngeorgian.bay.on.ca. The website for the host hotel can be found at www.qualityinnmidland.ca.
Location of Services: 924 King St., Midland, Ontario (at the corner of Hwy. 12).
First Service: 7:30 p.m., Wednesday, Oct. 4.
Taxes: 13 percent for guest rooms.
Cardigan, Prince Edward Island
For Canada's Sesquicentennial, UCG-Canada returns to magnificent Prince Edward Island (PEI), considered the Birthplace of Confederation! This time we will meet at the beautiful Rodd Brudenell River Resort. This riverside resort is located in Roseneath, part of the picturesque Points East Coastal Drive and only 40 minutes from the provincial capital of Charlottetown and its airport.
The Confederation Bridge offers easy access by automobile from New Brunswick.
All the major attractions of PEI are easily accessible by car from this location, including the Cavendish Dunes and the world-famous Anne of Green Gables homestead. Scenic drives and quaint villages are also quickly accessible from the Feast site, offering prime opportunities for hiking, photography and general relaxation with unique scenery around every corner.
The nearby town of Montague provides shopping opportunities as well as such villages as Georgetown and Cardigan with their artisan shops and popular restaurants. Also within an easy drive are numerous other towns waiting to be explored, local theatre and many provincial parks.
The Rodd Brudenell resort offers a comfortable and relaxing setting to enjoy services and on-site activities such as canoeing (weather permitting), an indoor pool, a spa, walking trails, horseback riding, tennis and cycling. There are also two highly rated golf courses on site.
The Rodd has a restaurant, smoke-free rooms, an elevator and relaxing views of the grounds. Accommodations include standard hotel rooms, a limited number of suites as well as one-, two-, and three-bedroom cottages only a five-minute walk from the main building. Cottages offer the chance to host barbeques with church friends and neighbors in a well-treed area.
The following activities will be available at the Feast in Prince Edward Island: meet-and-greet, island tour, hymn sing, seniors brunch and local entertainment.
Prince Edward Island, Canada's Garden Province, offers a unique opportunity to experience how life is "down east." Come and join us in a picturesque millennial setting to feast, worship and fellowship!
First Service: Wednesday evening, Oct. 4. You can find out more about the Rodd Brudenell Resort at https://roddvacations.com/hotels/rodd-brudenell-river/.
Location: 86 Dewars Lane, Roseneath PE, 902-652-2332 or 1-800-565-7633.
Sales Tax: All rates are subject to an additional 15 percent sales tax.
For further information on Prince Edward Island go to www.tourismpei.com.
† Links to third-party websites are for informational purposes only; data should be verified by the user via additional resources. The United Church of God-Canada cannot be held liable for the accuracy of content or data provided on third-party websites.