Festival Locations - 2013
We have five Feast of Tabernacle locations across Canada. The map below gives an approximate location of each site. Hover over a black dot to reveal the name of the site and click to go to the site description.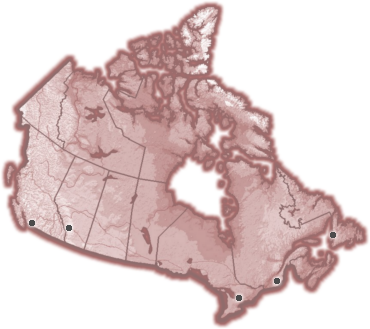 Abbotsford's self-proclaimed nickname, "City in a Country", says it all – urban amenities that include sophisticated dining, shopping and arts venues set in a landscape of working farms, art studios and refurbished historic communities.
Coupled with its temperate climate, Abbotsford is a year-round destination packed with activities for the entire family including hiking, mountain biking, fishing, and golf. With several provincial parks, rivers and lakes in and around Abbotsford, there are many outdoor activities to experience.
The Circle Farm Tour is one of the best ways to explore the Abbotsford countryside as it weaves along country roads to a myriad of farms selling everything from apples and preserves to gourmet ice cream. Many offer picnic parks, playgrounds and petting barns.
Another entertainment feature is Castle Fun Park. This year-round family play centre includes 18-hole outdoor and two indoor mini-golf courses, baseball batting cages, a Go Kart track and over 130 video and skill games.
In Abbotsford's historic downtown you'll discover turn-of-the-century buildings that house specialty boutiques, quaint tea shops and stores filled with local produce, English-style candy and gifts and with the popularity of eat-local Abbotsford's farm-to-fork tourism is growing in leaps and bounds. Not only are farms producing quality produce but local wineries are gaining recognition for excellent wines. Lotusland Vineyards and Mt Lehman Winery are two wineries in Abbotsford that are crafting local vintages.
Abbotsford is situated in the heart of the agricultural Fraser Valley, the valley that takes it's name from the mighty Fraser river that winds it's way from northern BC all the way to the Pacific ocean. Just across the river on a southern slope overlooking the lush Fraser River Valley and the Fraser River is the community of Mission, with it's unique heritage sites.
Abbotsford is less than an hour drive east of the city of Vancouver, situated on the Pacific ocean with it's snow-capped mountain backdrop. Abbotsford is also less than an hour from Harrison Hot Springs, home of the world famous natural hot springs, and the annual world renowned sand castle competition.
Location of Services: Sandman Hotel and Suites
32720-Simon Ave., Abbotsford B.C., V2T 0B8
(Just minutes from the Abbotsford International airport)
To make reservations use the following reference number:
GROUP REFERENCE #17187 – United Church of God
Central Reservations: 1-800- SANDMAN (1-800-726-3626)
Sandman Hotel & Suites Abbotsford (604-556-7263)
http://www.sandmanhotels.ca/hotels/abbotsford
First service: Sunday September 30 at 7:30PM. Next day services 1PM
Taxes: BC has a harmonized sales tax of 12%
King Suite Non Smoking – Guest rooms features King Bed, private bathroom, Separate living area, couch chair, ottoman, full kitchen, fridge, microwave, stove top, dishwasher, coffee maker, free coffee and tea, kettle, toaster, cookware, tableware, In suite washer dryer, air conditioning, heating unit, alarm clock radio, hair dryer, iron, ironing board, free high speed internet, 2 flat screen TV's, telephone, voice mail, work desk & chair, private balcony.
Suite with 2 single beds Non Smoking: also available with the same amenities as the King Suites.
Guest Room Rate: $102.00
*Guest rates are for single/double accommodation. Children 16 years old and under stay free.
Sandman is pet friendly
Other accommodation is also available in the area, and within close proximity to the festival location including:
Best Western Regency, Comfort Inn, Best Western Bakerview, Alpine Motor Inn
Information on all hotels can be found at: abbotsford.travel.bc.ca/accommodations

Nestled on three acres of land in the heart of the majestic Canadian Rocky Mountains, the Radisson Hotel and Conference Centre in Canmore offers an ideal location for this year's festival. Featuring 164 well-appointed rooms, this hotel is only 15 minutes from the town of Banff, 45 minutes from the outskirts of Calgary and in close proximity to some of the best attractions and activities the area has to offer. Here, you'll also enjoy world-class amenities such as an indoor pool, 12 person Jacuzzi, fitness center and business center. Enjoy golfing, sightseeing, hiking, white water rafting, horseback riding, biking, shopping, observing wildlife, or just relaxing.
Canmore lies nestled along the banks of the Bow River in the heart of the Rocky Mountains. It is close to Banff and Kananaskis Country. Chosen as the site of the Nordic Ski events (Canmore Nordic Center) for the 1988 Calgary Winter Olympics, Canmore began attracting international attention as a major tourist destination. It has sustainable growth with a small town feel. There are several walking and cycling trails leading to the downtown core.
Banff National Park was established in 1885 as Canada's first National Park and third in the world. The park was awarded a UNESCO World Heritage Site designation in 1984. Some describe it as "paradise"…"heaven on earth"…"a place where God lingered during creation." The park and town site offers rugged beauty, unspoiled landscapes, and pristine mountain ranges. You will be hard pressed to find a finer balance of unspoiled wilderness and refined amenities. Experience an unrivaled alpine escape at "The World's Finest National Park". You can also drink in nature's wonder at Lake Louise – one of the Canadian Rockies' most beloved destinations, with turquoise waters sparkling underneath the towering Victoria Glacier. Enjoy days beyond compare in the unspoiled beauty that the area can offer.
Here are some local links:
http://www.canmore.ca/
http://canadianrockies.ca/canmore/select/adventure
http://www.canmorealberta.com/
http://www.banff.ca/
Taxes: Alberta has no sales tax. A 4% tourism levy is charged on accommodations. A destination marketing fee of 3% will be applied for each night of your stay.
Location of Services: Radisson Hotel & Conference Center Canmore, 511 Bow Valley Trail, Canmore, Alberta
First Service: Sunday, September 30 at 7:30 p.m. The following day's service will be at 1:00 p.m.
Registration/Application: Due to the Church being directly responsible and liable to the Radisson for the hotel rooms reserved and for providing meeting space, all attendees are encouraged as much as possible to stay at the Radisson. Because of this, you may book right now.
A valid credit card number is required with your booking.
Special requests for specific room types (room with patio, mountain view, etc.) will be accepted, but are not guaranteed. The hotel will make every effort to honour each request based upon inventory available.
Registration for this site is like any other U.S. and Canadian site. Turn in your Festival Registration form to your local Festival adviser as per instructions.
Shuttle Service: Shuttle services are available from the Calgary airport. Check:
http://www.airportshuttleexpress.com/canmore.htm
http://www.banffairporttaxi.com/
http://banffairporter.com/

Hotel Reservations: For this site to operate successfully and the ability to sponsor a site in the Canmore/Banff area, we encourage you to stay on site.
You may begin immediately reserving housing at the Radisson and making travel arrangements.
Call the hotel at 403-678-3625, or toll free at 1-800-263-3625
Please mention that you are with the United Church of God.
Rainer Salomaa
Radisson Hotel & Conference Center Canmore
511 Bow Valley Trail, Canmore, Alberta
e-mail: rhi_cnmr@radisson.com
Phone: 403-678-3625
Toll free: 1-800-263-3625
http://www.radisson.com/canmore-hotel-ab-t1w1n7/abcanmor
Features: h, fw, ac, ip, e, kq, or, r, sf, w, s, UF, Sleep Number Beds, Fitness center, whirl pool, 3 hour laundry service
$91 Sleep Number Room single and double rate
$106 Sleep Number Room Triple rate
$121 Sleep Number Room Quad rate
$111 Resort Class Room, single and double rate
$171 Jacuzzi Suite single and double rate
$186 Jacuzzi Suite triple rate
$201 Jacuzzi Suite quad rate
All rates are net, non-commissionable and subject to Destination Marketing Fee (3%), Alberta Tourism Levy (4%) and GST (5%).
Rates are based on single/double occupancy; additional $15 fee per person, per night applies for any additional adults occupying guestrooms. Children 17 years and under stay free.
The Radisson hotel has Sleep Number Beds with uniquely designed air chambers within the mattress, which allows couples to individually adjust their side of the bed to their precise comfort and firmness, between 0 and 100.
All guestrooms include complimentary high speed Internet and complimentary parking.

Condo Units
For families unable to stay at the Radisson and who need condo units, Bellstar Hotel & Resorts Ltd. has weekly rates that can be booked through their website below; when you enter seven or more days into the reservation option you can select the weekly rate.
http://www.bellstar.ca/canmore-ab
Toll free: 1-877-737-6782
After a two-year absence, the Feast of Tabernacles will once again be held in the quaint little town of Midland, located on beautiful Southern Georgian Bay, only 90 minutes from Toronto and 30 minutes from Barrie.
The area has a natural blend of scenic landscapes, wildlife diversity and a picturesque harbor with waterfront trails and parkland. The spectacular fall colors should be at their best during the Feast. You can also visit several historic attractions that reflect the region's founding cultures of aboriginals, English and French, including the Huronia Museum and Sainte-Marie Among the Hurons.
Other superb attractions include a 30,000 islands cruise in nearby Parry Sound the Wye Marsh Wildlife Centre and the Elmvale Zoo.
There is an array of shopping in the historic downtown, and a short drive to Barrie will provide plenty for those looking for "mall shopping." For food lovers, there are local culinary delights and a variety of restaurants throughout the area.
One of the main reasons for returning to Midland is the warm and friendly welcome that we received at the Best Western Highland Inn and Conference Centre two years ago. It is the premier full-service hotel in the Southern Georgian Bay area, and the hotel recently received the prestigious Director's Award from Best Western International. It has an excellent remodeled ballroom with seating capacity for 500 people.
Accommodations include standard rooms as well as suites that come complete with a small refrigerator and a coffee-maker; all rooms include free high-speed Internet.
Room rates start at $79 for the standard room and up to $129 for a fireplace jacuzzi suite.
Restaurants on site include the Atrium Café for breakfast and lunch and the Olympia for casual fine dining. Other amenities at the Best Western include a heated indoor swimming pool, hot tub and sauna for total relaxation.
For those who need alternative housing, there is also an ample supply of cottages and bed and breakfasts in the area. Festival activities will include a meet-and greet night, a luncheon boat cruise, seniors' brunch, Bible study, family day and much more. For further information on the area, please go to www.southerngeorgian.bay.on.ca. The website for the host hotel can be found at www.bestwesternmidland.com.
Location of Services: 924 King St., Midland, Ontario (at the corner of Hwy. 12).
First Service: Friday, Oct. 2, 7:30 p.m.
Taxes: 13 percent for guest rooms.
Sherbrooke, Québec

The Satellite Feast site will be held at the Jardins de Ville hotel located at 4235 Boul. Bourque, Sherbrooke, QC J1L 1N7. The telephone number for reservations is 1-800-265-7119 and the fax number is 819-566-2246.
*Rooms should be booked prior to July 1st.
The standard room rate is $79.00 (10 available ) and a 2 bedroom efficiency unit and standard room is $120.00. Taxes are not included.
Standard rooms with two double beds are simple and comfortable.
You will find all the amenities for a much appreciated stay such as a small refrigerator, hair dryer and coffee maker.
In addition, you can enjoy free wireless high speed Internet access by our Internet provider ZAP Sherbrooke.
Two bedrooms apartments feature a fully equipped kitchen, a washer and dryer and a large living room. Most apartments offer three private balconies and two bathrooms equipped with a whirlpool bath.
There is a restaurant on location and shopping facilities close by.
Services will be held in the "FLEUR DE LYS" meeting room.
For further information please visit their website at www.jardinsdeville.com
*Includes a continental breakfast for everyone booked at the hotel.
Please note that this is a Satellite Feast Site without on- site speakers or minister in attendance. This site will tune in to the webcast from the Wisconsin Dells daily; no planned activities will be provided.
The Feast in 2013 will be held in one of the most beautiful locations in Canada, Gros Morne National Park in Western Newfoundland. It is an area of great natural beauty with a rich variety of scenery, wildlife and recreational activities. There is spectacular scenery including the towering cliffs of a freshwater fjord carved out by glaciers. Waterfalls, marine inlets, sea stacks, sandy beaches and colorful nearby fishing villages completing the phenomenal natural and cultural surroundings of Gros Morne National Park of Canada. It's a perfect millennial setting for the Feast of Tabernacles.
The Feast will be held at the Shallow Bay Motel Conference Centre in the quaint town of Cow Head at the northern end of Gros Morne National Park. Services will be held in a beautiful meeting hall overlooking the Atlantic Ocean. Standard guest rooms start at $85 per night plus taxes. Suites with a queen bed and jacuzzi start at only $94 plus taxes. All the suites have a view of the ocean, and for families (two to six people) there are house keeping units (cottages) starting at $103 per night plus taxes. For more information you can visit their website at www.shallowbaymotel.com. There is a restaurant available on site as well as lots of eating establishments in nearby towns such as Rocky Harbor. For those who are staying in the cottages, grocery stores are available at Deer Lake.
For those travelling by air there are several flights available on Air Canada and West Jet. The airport is located in Deer Lake, a little more than an hour from Gros Morne National Park. The drive through the mountains to the Feast site is absolutely breathtaking. For those wishing to travel by ferry there is service from North Sydney, Nova Scotia, to Port aux Basques, Newfoundland. For information on schedules and rates please visit http://marineatlantic.ca.
There is no better way to explore this scenic delight than by taking the Western Brook Pond Boat Tour. On board, you can view the spectacular glacier-carved land-locked fjord, waterfalls cascading from 2,000 feet that often turn to mist before reaching the pond, ages-old cliffs and frequent wildlife sightings. For more information on Gros Morne National Park you can go to www.grosmorne.com.
The following activities will be available at the Feast in Western Newfoundland: a get-acquainted meet-and-greet evening, a beautiful scenic tour, a fun variety show, a get-acquainted ladies event, a fun-filled family day, hymn sing and Bible study, a scrumptious dinner with local entertainment and more.
If you love God's natural beauty, a warm and friendly environment and stimulating spiritual messages, this is the Feast for you. So won't you please join us in spectacular Gros Morne National Park for a memorable Feast of Tabernacles amidst the beauty of God's creation along with your fellow brethren.
Larry DeLong and
Dennis Horlick