Festival Locations - 2014
We have four Feast of Tabernacle locations across Canada. The map below gives an approximate location of each site. Click on the site name at left or click on the dots on the map to show the site description.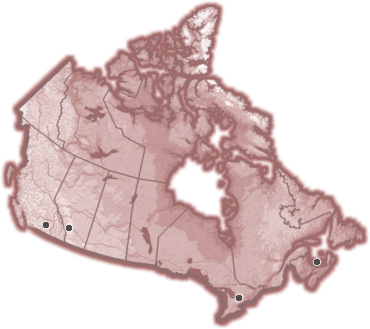 An urban oasis back dropped by a setting of rural splendor, Kelowna is the largest city located on stunning Okanagan Lake.  Kelowna is a recreational lakeside paradise with miles of beautiful parkland and sandy beaches that provide wonderful opportunities for fun. Kelowna offers many other venues including a water adventure park; http://www.h2okelowna.ca/ zip lines, http://zipzone.ca/ Wild Play Elements Park; www.wildplay.com, North Americas longest suspension bridge; http://kelownamountainbridges.com/ and more.

There are unending miles of trails for hiking, mountain biking, and family walks, including the Kettle Valley Trail; http://www.kettlevalleyrailtrail.com/kelowna/  The downtown core houses galleries, museums, theatres, studios, excellent restaurants and a waterfront park and walkways
Kelowna is emerging as Canada's newest golf destination, offering 101,382 yards of golf heaven. From easy-going to ego-shattering there are 20 golf courses to choose from.   If you're a wine enthusiast, touring Kelowna is a must. There are more than 29 unique wineries offering tours and tastings for all palates.
http://www.tourismkelowna.com/
http://www.okanaganfoodwinefilmfestival.com/
http://www.kelownabc.com/
The Kelowna International Airport serves the area with flights from many major cities.  It is accessible by vehicle from all directions; 400 km's from Vancouver, 500 km's from Seattle and 410 km's from Spokane.
Location of Services: Sandman Hotel & Suites Kelowna.
First Service:  Wednesday October 9th at 7:30pm. The following day's service will be at 1:00pm.
Host Hotel: Sandman Hotel & Suites Kelowna.
2130 Harvey Avenue, Kelowna, BC, CANADA, V1Y 6G8 (250) 860-6409
Accommodations:  As a proud supporter of the United Church of God Conference, the Host Hotel will be providing complementary meeting room facilities and incentive programs. In support of this event, we highly recommend "all who are able," book their stay with the Sandman.
BOOKING PROCEEDURES:   Guests simply call 1.800.SANDMAN (726.3626) reservations line, quote group block number: 389138 pick their room choice accordingly.
Preferred Rates in effect until July 8th 2014 - plus applicable taxes.
$89       Standard Room, 1 Queen Bed with Fridge and Microwave.
$109     Junior Suite – Atrium Building, 1 Queen Bed with Hida Bed in Living Room. (limited availability)
$99       Standard Room, 2 Queen Bed's with Fridge and Microwave.
$109     Corporate King Room – Executive Tower
$139     Corporate King Suite – Executive Tower
Discount cards for Denny's 24-Hr Restaurant, Chop Steakhouse, and Moxies Restaurant will be provided to all guests upon check-in.
Canmore is located about 60 minutes west from the outskirts of Calgary which has the third busiest airport in Canada. The town of Canmore lies nestled along the banks of the Bow River in the heart of the Canadian Rocky Mountains. It is close to Banff and Kananaskis Country. Chosen as the site of the Nordic Ski events (Canmore Nordic Center) for the 1988 Calgary Winter Olympics, Canmore began attracting international attention as a major tourist destination. It has sustainable growth with a small town feel. There are several walking and cycling trails leading to the downtown core. Enjoy golfing, sightseeing, hiking, white water rafting, horseback riding, biking, shopping, observing wildlife, a multitude of eating establishments, or just relaxing.
Banff National Park, which is about 20 minutes from Canmore, was established in 1885 as Canada's first National Park and third in the world. The park was awarded a UNESCO World Heritage Site designation in 1984. Some describe it as "paradise"…"heaven on earth"…"a place where God lingered during creation." The park and town site offers rugged beauty, unspoiled landscapes, and pristine mountain ranges. You will be hard pressed to find a finer balance of unspoiled wilderness and refined amenities. Experience an unrivaled alpine escape at "The World's Finest National Park". You can also drink in nature's wonder at Lake Louise – one of the Canadian Rockies' most beloved destinations, with turquoise waters sparkling underneath the towering Victoria Glacier. Enjoy days beyond compare in the unspoiled beauty that the area can offer.
Here are some local links:
http://www.canmore.ca/
http://canadianrockies.ca/canmore/select/adventure
http://www.canmorealberta.com/
http://www.banff.ca/
Location of Services: Cornerstone Theatre, 125 Kananaskis Way, Canmore, Alberta (Web site: www.atthecorner.ca)
First Service: Wednesday, October 8 at 7:30 p.m. The following day's service will be at 1:00 p.m.
Radisson Hotel & Conference Center Canmore
 511 Bow Valley Trail, Canmore, Alberta
Phone: 403-678-3625
Toll free: 1-800-263-3625
Fax: 403-678-3765
Please say that you are with the United Church of God.
On-line: www.radisson.com/canmoreca
Please use Promo code: UCOGC
$119     Run of House single and double
$129     Corner King Sleep Number Bed single and double
$129     Mountain View Room single and double
$199     Jetted-Tub Suite single and double
Rates are based on single/double occupancy; additional $15 fee per person, per night applies for any additional adults occupying guestrooms. Maximum occupancy is 4 adults,. Children 17 years and under stay free.       
Features: h, fw, ac, ip, e, kq, or, r,  sf, w, s, UF, Sleep Number Beds, Fitness center, whirl pool, 3 hour laundry service, complimentary high speed Internet and complimentary parking, walking distance to site.
Solara: https://vibe.genares.net/?hotelCode=12574&promoCode=UCOG&matchingQualifier=EXACT&calendarMonth=2014-10-08
Toll free: 1-877-778-5617
  Lodges at Canmore: https://vibe.genares.net/?hotelCode=12576&promoCode=UCOG&matchingQualifier=EXACT&calendarMonth=2014-10-08
Toll free: 1-866-678-9350
A note from Bellstar Hotels and Resorts Ltd: "If you add notes to your reservation concerning the view and the type of suite you are looking for, we can try our best to accommodate as best we can to ensure you are in the exact suite you are looking for." Also, there are some pet friendly rooms at a rate of $20 per pet per day. Both Solara and Lodges are walking distance to site.
Windtower Lodge and Suites:
160 Kananaskis Way
Phone: 403-609-6600
Toll free: 866-609-6600
Fax: 403-609-6666
www.windtower.ca
$69       Standard bedroom
$159     One bedroom suite
$239     Two bedroom suite
Restaurant on premise, walking distance to site.
Mystic Springs Chalets and Hot Pools:
140 - Kananaskis Way
Phone: 403-609-1271
Toll Free: 1-866-446-9784
Fax: 403-609-0264
stay@mysticsprings.ca
www.mysticsprings.ca
$149.25              Two bedroom chalet
The rate is based on 7 or more night's stay, $25 extra per person/night when over 4 people. Maximum occupancy is 8, walking distance to site. In booking, please identify yourself as being with the United Church of God.
Silver Creek Lodge:
1818 Mountain Avenue
Phone: 403-609-1271
reservations@silvercreekcanore.ca
www.silvercreekcanmore.ca
$119     Hotel room studio (maximum occupancy 2)
$140.25              One bedroom suite (maximum occupancy 4)
$191.25              Two bedroom suite (maximum occupancy 6)
The rate is based on 7 or more night's stay. There is a $25 per person/per night charge for more than 4 adults and is about a 5-10 minute drive to the site. In booking, please identify yourself as being with the United Church of God.
Georgetown Inn:
1101 Bow Valley Trail
Phone: 403-609-1271
Toll free: 1-866-5955
Fax: 403-678-6909
www.georgetowninn.ca
$89       Louise Room
$118     Elizabeth and William Rooms
$129     Albert Rooms
$161     Tudor and Victoria Suite
Features: r, sf,kq, ac, e, fw The rates are based on 7 or more night's stay. The maximum occupancy is 2 except for the Williams Rooms (4) and the Tudor Suite (6). This is about a 5 minute to drive to the site. In booking, please identify yourself as being with the United Church of God.
The Feast of Tabernacles 2014 will once again be held in the quaint little town of Midland located on beautiful Southern Georgian Bay, only 90 minutes from Toronto and 30 minutes from Barrie.
The area has a natural blend of scenic landscapes, wildlife diversity and a picturesque harbor with waterfront trails and parkland. The spectacular fall colors should be at their best during the Feast. You can also visit several historic attractions that reflect the region's founding cultures of aboriginals, English and French, including the Huronia Museum and Sainte-Marie Among the Hurons.
Other superb attractions include a 30,000 islands cruise in nearby Parry Sound the Wye Marsh Wildlife Centre and the Elmvale Zoo.
Enjoy the historic downtown that provides a variety of shopping and restaurants for every taste. Or drive the short distance to Barrie for those who love "Mall Shopping".
Accommodations include standard rooms as well as suites that come complete with a small refrigerator, a coffeemaker; all rooms include free high-speed Internet. Room rates start at $79 for the standard room and up to $129 for a Fireplace Jacuzzi Suite.  
All rooms include a continental breakfast in the onsite Atrium Café where the brethren gather each morning. You can also enjoy lunch or supper at the Olympia restaurant, also located onsite.
For further information on the area, please go to www.southerngeorgian.bay.on.ca. The Web site for the host hotel can be found at www.bestwesternmidland.com.
Location of Services: 924 King St., Midland, Ontario (at the corner of Hwy. 12).
First Service: Wednesday, Oct. 8, at 7:30 p.m.
Taxes: 13 percent for guest rooms.
Best Western
(705) 520-9307
(800) 461-4265
(705) 526-0022 fax
www.bestwesternmidland.com
924 King St.
Midland, ON L4R 4K3
$79-129.99 1-2 people
$5 extra person
Features: r, sf, l, ip, kq, ac, s, fw, cb
Stanley Bridge, Prince Edward Island
It is back to beautiful Prince Edward Island and the ideal millennial settings of The Stanley Bridge Resort for the Feast of Tabernacles in 2014.
This picturesque resort is located on a hilltop overlook­ing the Atlantic Ocean through New London Bay with the Stanley River in the background and the Cavendish Dunes in the foreground. The resort sits on 12 acres of beautifully landscaped property and is centrally located 30 minutes from the cities  of Charlottetown and Summerside. There is easy access by land over the Confederation Bridge, which links PEI to New Bruns­wick, and the airport is only 30 minutes from the resort. The festival site is a five-minute drive from the quaint village of Cav­endish and just minutes away from National Beaches, six of the island's finest golf courses and the homestead of the world-famous Anne of Green Gables.
This four-star Country Inn offers smoke free rooms/suites, a variety of rustic cottages with barbecues, efficiency lodge and the Country Inn, which offers a spectacular water view. It has spacious grounds for relaxing walks on a sunny day. Sutherland's restaurant on the resort offers fine foods along with local restaurants in nearby towns and the two cities.
Room rates at the Stanley Bridge Resort are affordable at only $74.00 for the Country Inn and the same price for one- or two-bedroom efficiency room at the Lodge. For larger fami­lies there are two- and three- bedroom cottages from only $102.00 to $140.00. To add a little value, all who stay at the resort will receive a complimentary continental breakfast served for your convenience. For more information visit their website at www.stanley­bridgeresort.com
Services will be held right at the resort in the Fyfe's room, which can hold 200 people com­fortably.
There will be ample time to shop and check out the sights and sounds of Prince Edward Island. Or you can just stay and fellowship and enjoy an amazing Feast of Tabernacles at one of the most scenic spots on PEI.
The following activities will be available at the feast in Prince Edward Island: meet and greet evening, camp fire sing-a-long, variety show, island tour, family day, fishing, hymn sing and Bible study, seniors brunch with guest speaker, barbecue dinner with local entertainment, and more.
Come join us on Prince Edward Island for an inspiring and joyful Feast in 2014.
Location of Services: Route 6, Stanley Bridge, Prince Edward Island, Canada C0B 1M0
$74       1 person @ The Country Inn
$74       2 people @ The Country Inn
$74       1 & 2 bedroom Efficiency units @ The Lodge ( separate but next to
the Country Inn )
$121     1 bedroom cottage, 1-4 people
$102     2 bedroom cottage, 2-6 people
$140     3 bedroom cottage, 2-8 people
$10 extra person
Features: k, h, r, sf, l, wf, op, kq, ac, s, fw, cb, on site